Discussion Leader
-

Health Evolution Leadership

-

Health Evolution Team

-
Sharing insights, inspiring change
-
-
-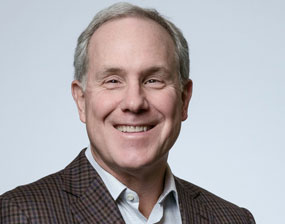 1David Brailer, MD, PhD
Chairman, Health Evolution
Chairman
David Brailer is an American physician recognized for his pioneering leadership in health care, particularly in the use of health information technology. Over the past three decades, Dr. Brailer has built a variety of private and public sector organizations that improve access to and quality of health care.
In September 2022, Dr. Brailer was named the Chief Health Officer of Cigna. As Cigna's first Chief Health Officer, Dr. Brailer brings together the company's products, technologies, and services to create breakout health improvements for the 190 million people the company serves.
In 2007, Dr. Brailer founded Health Evolution Partners, a private equity firm that invested in companies seeking to transform health care. In 2011, he founded Health Evolution, an organization that convenes health care leaders as they navigate rapidly changing forces in the industry. Dr. Brailer serves as Chairman of Health Evolution.
In 2002, Dr. Brailer was appointed by President George W. Bush as a health policy advisor and later became the nation's first National Coordinator for Health Information Technology. In this role, Dr. Brailer oversaw development of the nation's strategy for electronic records, information sharing and consumer empowerment. His efforts set the foundation for the rapid adoption of digital health technologies that is underway today.
In 1996, Dr. Brailer founded and was CEO of CareScience, a health care information management company. Under his leadership, CareScience developed one of the nation's earliest health care cloud solutions, serving more than 25 million patients in 500 major health care systems, health plans and physician groups across the United States. Dr. Brailer led CareScience through a successful IPO and subsequent sale of the company.
Dr. Brailer holds doctoral degrees in medicine and economics. He earned his M.D. from West Virginia University and his Ph.D. in economics from The Wharton School. He became board certified in internal medicine after his internship and residency at the Hospital of the University of Pennsylvania, where he practiced infectious diseases and HIV medicine. Dr. Brailer was appointed a Charles A. Dana Fellow and a Robert Wood Johnson Clinical Scholar at the University of Pennsylvania. Dr. Brailer taught for a decade at The Wharton School, where he founded the Wharton School health information technology program.
Dr. Brailer is Vice Chairman of the Duke Margolis Health Policy Center and has served on the boards of directors of or as advisor to numerous health care companies, including Walgreens Boots Alliance, VillageMD, Censeo Health and Prolacta Biosciences.
Dr. Brailer grew up in a small town in rural West Virginia where his family has lived since 1840, and now lives in San Francisco with his spouse and two children.