Discussion Leader
-
Sharing insights, inspiring change
-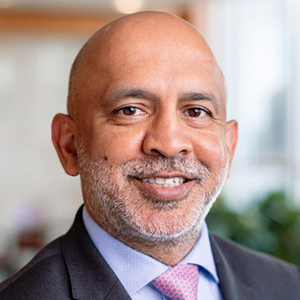 Maneesh Goyal
COO, Mayo Clinic Platform
Maneesh Goyal is chief operating officer, Mayo Clinic Platform, at Mayo Clinic. Mr. Goyal oversees the financial and operating performance and growth of the newly announced Mayo Clinic Platform, working in partnership with John Halamka, M.D., M.S., president of Mayo Clinic Platform, and Clark Otley, M.D., chief medical officer of Mayo Clinic Platform.
Mr. Goyal has accountability for the ongoing refinement and execution of the Platform strategic and operating plans; acquisition of executive and expert talent; the development of processes, systems and infrastructure for the Platform ecosystem of business, and the attraction of external partners and collaborators.
Mr. Goyal brings a cross-disciplinary background of finance, investing, product development and engineering. He was most recently the vice chair, Corporate Development at Mayo Clinic. Prior to joining Mayo, he led the product and solution functions as the chief solutions officer and chief corporate development officer at Welltok, an enterprise B2B2C consumer health platform where he also had responsibilities in corporate development, post-merger integration, and capitalization. Prior to joining Welltok, Mr. Goyal was a managing director with Miramar Venture Partners, a leading early-stage investor focusing on the information technology space. With Miramar, he led investments and was an advisor and board member for several health and consumer Internet companies. Before entering the venture world, Mr. Goyal was an early employee with Broadcom, a Fortune 500 Company, leading product development and engineering efforts in more than a dozen communications technology solutions.
Mr. Goyal earned a bachelor's degree in biomedical engineering from Worcester Polytechnic Institute, a master's in electrical engineering from the University of Southern California, and an MBA from the Anderson School of Management at UCLA.