Discussion Leader
-
Sharing insights, inspiring change
-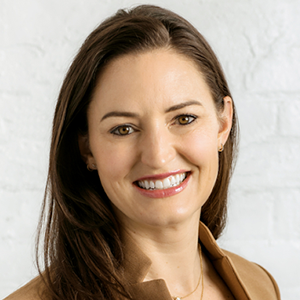 Carolyn Starrett
CEO, Flatiron Health
Carolyn Starrett is CEO of Flatiron Health®, a world leader in transforming patients' real-life experiences into knowledge to help accelerate improvements in cancer care and treatment.
Almost everything known today about what works for patients with cancer comes from the relative few who enroll in randomized controlled trials. Flatiron uses clinical and data science to improve lives by learning from the experience of every cancer patient. Insights from Flatiron's real-world data and analyses support meaningful learnings relevant to a global cancer population, and have helped expand treatment alternatives for people with gastric, colorectal, esophageal, breast, and head and neck cancer. Through three international subsidiaries, Flatiron now also works to improve treatments and outcomes for cancer patients in Japan, Germany and the United Kingdom. We also build the EHR software that supports care for approximately 20% of the cancer patients in the US, along with a robust set of value-based care, revenue cycle, and clinical research services and solutions to help cancer centers thrive.
Carolyn became Flatiron CEO in April 2021, succeeding the company's co-founders and bringing a deep understanding of the challenges facing those on the cancer frontlines from her years leading the company's community oncology business. Prior to joining Flatiron in 2016, Carolyn held senior commercial, product, and operations roles at data and technology companies and led strategy and transformation efforts with healthcare and technology companies as a principal with Boston Consulting Group.
Carolyn currently serves on the boards for Flatiron Heath and for Foundation Medicine. She holds an MBA from the Kellogg School of Management at Northwestern University and a Bachelor's degree from Brown University.
Beyond Flatiron, Carolyn is an avid backcountry skier, outdoor enthusiast, and yogi.  She is a passionate champion for mindfulness and inclusion in the workplace and beyond and is deeply committed to advancing global health and environmental sustainability.