Discussion Leader
-

Health Evolution Leadership

-
Sharing insights, inspiring change
-
-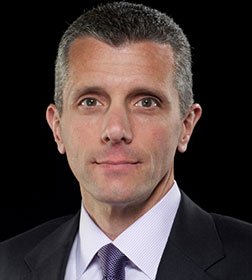 David Cordani
President & CEO, Cigna
Leadership Committee
David Cordani became President and CEO of Cigna in 2009 and has spearheaded its transformation into a leading global health service company, doubling the size of the company in six years. He is a prominent voice addressing key health challenges, such as the empowering of individuals to manage their own health, innovating new health delivery models focused on patients' health improvements, and partnering with physicians to focus on wellness, and improving clinical quality.
With operations and capabilities in more than 30 countries, Cordani leads Cigna's approximately 43,000 employees in improving the health, well-being and sense of security of more than 95 million customer relationships.
Cordani joined Cigna in 1991; his leadership experiences cross critical disciplines of health care services including distribution, marketing, clinical management, underwriting, finance and operations.
Prior to joining Cigna, Cordani was with Coopers & Lybrand. He actively works with the Achilles International Freedom Team of Wounded Veterans and ChildObesity180, where he is a charter board member. He also supports organizations including March of Dimes and The Juvenile Diabetes Research Foundation. In addition, he is founder of The David and Sherry Cordani Family Foundation, reflecting the Cordani family's deep commitment to supporting community health and well-being. Cordani was named to the General Mills Board of Directors in 2014 and to the U.S.-India Business Council Board of Directors in 2015.
Cordani is an accomplished triathlete, having competed in more than 125 triathlons. He earned a bachelor's degree from Texas A&M, and an MBA from the University of Hartford.