Discussion Leader
-
Sharing insights, inspiring change
-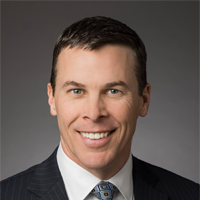 Greg Sweat, MD
SVP & Chief Medical Officer, Blue Cross and Blue Shield of Kansas City (Blue KC)

Dr. Greg Sweat is the Senior Vice President and Chief Medical Officer at Blue Cross and Blue Shield of Kansas City (Blue KC). Dr. Sweat is responsible for helping the company provide value to members, partners and the community through innovative and efficient patient care of the highest quality.
In his previous role as Chief Medical Officer at the Shawnee Mission Physicians Group, Dr. Sweat directed the multi-specialty group's services consisting of more than 100 providers in 25 practices serving more than 225,000 patients per year. Dr. Sweat also taught as an Assistant Professor at the University of Kansas Department of Family Medicine. He also served as a consultant in the Mayo Clinic's Department of Family Medicine.
A respected leader in the industry, Dr. Sweat has received numerous awards for his medical stewardship throughout his career. Most recently he was awarded the Stewardship Award from Shawnee Mission Health. He has also been included in Ingram's Magazine 40 under Forty list of local outstanding professionals.
Dr. Sweat was also presented with the Excellence in Teaching Award and the Clinician Educator Award from Mayo Medical School. Dr. Sweat sits on the board of the Kansas City Quality Improvement Consortium. He is a member of local professional association chapters including the Medical Group Management Association (MGMA), the American Academy of Family Physicians (AAFP), and the American Medical Association (AMA).
Dr. Sweat earned his Doctor of Medicine from the University of Kansas. He also received a Master of Health Administration from the University of Missouri-Columbia. Dr. Sweat also received his Bachelor of Science in Business Administration from the University of Kansas.