Discussion Leader
-

Health Evolution Leadership

-
Sharing insights, inspiring change
-
-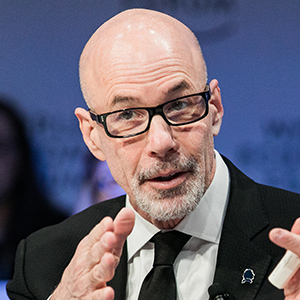 Stephen Klasko, MD
Executive in Residence, General Catalyst; former President & CEO, Thomas Jefferson University and Jefferson Health
Leadership Committee
General Catalyst: Executive in Residence
Sheba Medical Center: Chief Strategy Officer for Global Health
3D Systems: Chair, Advisory Board
Abundant Venture Partners:  Operating Partner and CMO
World Economic Forum: Distinguished Fellow
Thomas Jefferson University & Jefferson Health: Former President and CEO | September 2013 to December 2021
Presidential Appointment: National Board for Education Sciences
Principal: Klasko Advisory Partners
STEPHEN KLASKO is a transformative leader and advocate for a revolution in our systems of health care and higher education. He has been a university president, a dean, a CEO, and an obstetrician, and now pursues his vision for the creative reconstruction of American healthcare by bridging traditional academic centers with entrepreneurs and innovators.
HE HAS JUST PUBLISHED his newest and most autobiographical book, Feelin' Alright: How The Message in the Music can Save Healthcare. The book captures his use of creativity to tackle the biggest issues we face.
HIS PASSION is using technology to eliminate health disparities and offer everyone the promise of health assurance. Dr. Klasko is also a lifelong DJ who believes that the message in the music can give us the courage to tackle a broken, fragmented, unfriendly, expensive, and inequitable healthcare system.
HE CURRENTLY serves as an Executive in Residence at General Catalyst, North American ambassador for Sheba Medical Center in Israel, and as CMO of Abundant Partners. He serves on the board of directors at Teleflex. In 2022, President Biden appointed him to the National Board of Education Sciences.
AS PRESIDENT of Thomas Jefferson University and CEO of Jefferson Health from 2013-2021, he led one of the nation's fastest growing academic health institutions based on his vision of re-imagining health care and higher education.
UNDER HIS LEADERSHIP, Jefferson expanded from three hospitals to 18 and from a health sciences university to a professional university with multiple campuses. Its revenue grew from $1.8b to $9 billion. His 2017 merger of Thomas Jefferson University with Philadelphia University created a pre-eminent national doctoral university that includes the first design-thinking curriculum in a medical school, and the nation's leading research on the role of empathy in health care.
HIS TRACK RECORD OF SUCCESS has earned him Modern Healthcare's #2 in 2018's "100 Most Influential Individuals"; as #21 in Fast Company's "100 Most Creative People in Business 2018"; "Philadelphia Entrepreneur of the Year 2018"; Ernst & Young's "Greater Philadelphia Entrepreneur of the Year 2018"; and Becker's Hospital Review's "100 Great Leaders in Healthcare."
HE IS MARRIED to Colleen Wyse, a fashion leader and founder of The Philadelphia Trunk Show, and has three children: Lynne, David and Jill.