Roz Brewer became CEO of Walgreen Boots Alliance nearly a year ago and, in so doing, became one of only two Black women chief executives leading a Fortune 500 corporation.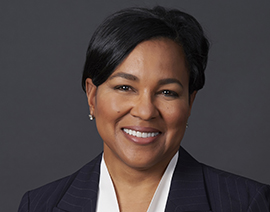 Prior to WBA, Brewer served as COO and Group President of Starbucks, President and CEO of Sam's Club and she held executive positions at Walmart after leading Kimberly Clark's Global Nonwovens Division as President.
Since Brewer became CEO at WBA, the organization took a $5.2 billion stake in VillageMD and a majority stake at $330 million in CareCentrix to enable the major initiative focused on patient care known as Walgreen Health.
---
Read all of our 2022 Summit articles
---
Leading up to the Health Evolution Summit, where Brewer will be among the CEOs leading Main Stage discussions, we interviewed Brewer about WBAs recent launch of Walgreens Health, the role of VillageMD and CareCentrix in that strategy for primary and post-acute care, why she is optimistic that some good will arise from the ongoing crises, and more.
You will soon reach the first anniversary as CEO of Walgreens Boots Alliance. What were some of the biggest highlights and focus areas of your first year leading the company?
Brewer: I joined Walgreens Boots Alliance as CEO in March of 2021, what I saw as a rare opportunity to help end the pandemic and to help reimagine local health care and wellbeing for all. Seven months later, we launched the company's new purpose, vision, values and strategic priorities. My role as CEO now and in 2022 is to lead with our company's purpose — more joyful lives through better health — at the center of all we do for our customers, patients and team members. I'm particularly focused on affordable, accessible health care for all, including in traditionally medically underserved communities. Health care is inherently local, and all communities should have equitable access to care.
Walgreens in late October launched Walgreens Health, which includes VillageMD and CareCentrix. And you have said the goal is to improve outcomes and lower costs. How does Walgreens intend to achieve that?
Brewer: Walgreens Health is a tech-enabled care model powered by a health care platform that is omnichannel and personalized for the consumers we serve. This platform will create an integrated experience for consumers across their journey and knit together the products and services from Walgreens Health and our partners. The launch of Walgreens Health is a bold move for WBA. It represents our commitment to care for communities across the country and builds from our core assets and long-established trusted consumer relationships.
Think of Walgreens Health as a unified, open, and connected health experience that gives people anytime, anywhere control over the personalized care they need, wherever and however is best for them: in-store, at home, online, via mobile app. For example: Imagine the day when we could offer services across the care continuum, including finding the right doctor, scheduling appointments, managing chronic conditions, accessing insurance records, viewing health records, accessing wellness services, setting up health devices such as blood glucose monitors, providing nutritional and preventative information — and much more.
WBA's majority stakes in VillageMD and CareCentrix will accelerate Walgreens Health capabilities in primary care and post-acute care to uniquely impact the patient care journey continuum, especially for high-risk patients with chronic conditions. Walgreens and VillageMD are bringing physicians and pharmacists together to improve overall care, ensuring patients have ongoing access to support that helps them get and stay healthy. Our coordinated care model helps to lower costs and improve outcomes for patients, particularly those with chronic health conditions. Our pharmacy team can help select affordable medication options and have prescriptions ready for patients when they leave the primary care visit, whether for in-store pick-up, drive-thru, or delivery.
You've also said that you feel inspired that some good will rise out of the crises of 2020-2021. What changes are you anticipating or hoping for most?
Brewer: A year from now, I want to look back on this time as an inflection point and a moment in time where real, lasting change happened — that we will all have collectively banded together to get through the pandemic and at the same time delivered real change toward improving accessible and affordable health care. I feel inspired and hopeful that some good will come out of this very difficult time in our country and the world's history.
With locations across the U.S., how is Walgreens uniquely positioned to advance health equity?
Brewer: The pandemic affirmed Walgreens as a trusted neighborhood health destination to help our customers and patients manage their health. The company has 9,100 stores across the U.S., 8 million customers interacting in our stores and online per day, and 78 percent of the U.S. population lives within five miles of our stores. We provide essential care to our communities, including administering more than 56 million Covid vaccines and nearly 23 million Covid tests. We are the largest pediatric vaccine provider in the pharmacy channel and 40 percent of Walgreens stores offering the Pfizer COVID-19 vaccine to children ages 5-11 are located in areas with a high Social Vulnerability Index score.
As one of a very small number of Black CEOs among Fortune 500 companies, what advice would you offer to other women or people of color trying to shatter the glass ceiling?
Brewer: I'm asked to give advice to students and those beginning their careers regularly. What I say is … as you're embarking on your careers, please do dream big and do not place limits on your dreams or aspirations based on others' or society's expectations of you. Be your whole, authentic self, and bring both your head and your heart to your decisions in your work to achieve your dreams.